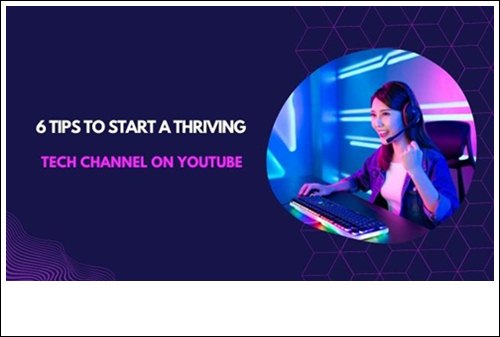 The ongoing pandemic has played a pivotal role in the extensively rising video blogging culture. The rate of unemployment and the need for money are entirely understandable for tech-savvy adults. So the need to start a YouTube channel has become more essential than ever.
Besides being a fun, interactive, and impressive money-making procedure, it has the potential to carve famous online personalities. Starting a YouTube channel helps meet new people and obtain free goodies from various companies.
These perks are spiking the existence of YouTube aspirants. In technological advancement, it is undoubtedly one of the most acceptable ways to earn money. You need to chalk out specific strategies and follow them to become a successful YouTuber and make a YouTube video. Only then will you be able to come up with approachable and captivating content.
This article will provide an insightful overview of becoming a successful YouTuber. Further, you will discover some fascinating tips for starting a thriving tech channel on YouTube. Keep reading till the end to explore more.
Ways to become a successful YouTuber
Presently, YouTube ranks highest as a free online video-sharing platform globally. Founded in 2005, Google, the second-largest search engine, took over the custody of YouTube in 2006. The videos shared and uploaded on YouTube channels undoubtedly make it one of the most prominent global content curators.
With more than 38 million channels, YouTube offers an unmatched potential for promoting content and monetising it. Before successfully commencing a YouTube channel, you need to conduct extensive research. You need to understand the trends properly and figure out your ideal niche.
And finally, you need to determine who your audience is. Only then will you be able to deliver the right desirable content as per your audience's taste. But first, you need to learn how to make a YouTube video.
Popular and profitable YouTube channel options
YouTube follows a peculiar strategy for monetising. The more people view any particular channel, the more ad revenue the channel will receive. However, the amount is significantly split between the channel owner and YouTube.
Here is a comprehensive listing of all the most profitable YouTube channel ideas. Let's dig in.
●       Gadgets and tech review
As technology is undergoing massive evolution, people are interested to learn about new gadgets. Moreover, it ranks highest in search queries. So if you have a knack for reviewing gadgets, you can start a YouTube channel and review them.
●       Social experiments
Social experiments determine how humans think and act in certain situations. Creating these videos will cost you some time, but you can always succeed in delivering a social message.
●       Product review
Numerous products are released every other day in the market. If you have the confidence to become a potential YouTube influencer, you can start reviewing products and posting them.
●       Fashion
Fashion trends are one of the highly discussed topics on social media. If you are a fashionista, you can reach the world with your fashion ideas. And YouTube is an excellent platform to start delivering fashion advice to your audience.
●       Fitness
The epidemic surge forcefully shut down all fitness centres. So fitness freaks shifted their workout structure to their home. If you are a fitness trainer, you can motivate people by starting a YouTube channel.
●       Tutorials
94% of Indian YouTubers watch tutorial videos before heading to do anything new. Since tutorial videos are the most-watched, you can make interesting content about things you are interested in.
●       Comedy
If you have a great sense of humour and the potency to make people laugh, you can put it to use. You can create videos where you deliver some pun-filled and humorous thoughts. While people find ways to reduce stress, your sense of humour might make them feel lighter.
●       Music
YouTube is a beautiful platform for all aspiring musicians. Besides paving the way for earning money, it is a fantastic opportunity to become famous. You can either teach music or showcase your musical talent in front of the entire world.
Tips for starting a thriving tech channel on YouTube
Gadgets and technology are moderate to highly pricey. So, commencing a tech channel on YouTube can be challenging but worth your time, money, and energy. Initially, it can be challenging to pick out the right products for reviewing and filming. But, it is impossible to make the wrong choice.
As people use all kinds of tech, you have plenty of options for reviewing and making tech videos. But amongst so many tech channels on YouTube, how do you stand out?
Here are a few tips to get you started for a thriving tech channel:
●       Commence with a cheap gadget
While you are just starting with your tech channel, make sure you review something cheap. If your first video doesn't get significant reach, it will leave you with utter disappointment.
●       Slowly experiment with different technologies
There are plenty of gadgets available in the market. Once you make your ground sturdy, explore different devices and post review videos on your channel. This will help you gain a broader audience, thereby increasing your followers.
●       Determine your niche
Identifying your niche is the first thing you must do to run a successful tech channel on YouTube. Instead of focusing on a single tech, you can cover interrelated technologies and products. This will subtly help your YouTube channel to grow successfully.
●       Ask for audience feedback
Viewer comments can work like inspirations to make your YouTube channel grow. You will get both positive and negative feedback. But it would be best if you listened closely to the negative comments to figure out your areas of improvement.
●       Don't compete with big tech creators
Prominent tech creators work as the most extensive resource for sharing new ideas. So you mustn't think of them as your competitors. You can always learn from them and replicate their strategies uniquely on your channel.
●       Incorporate affiliate marketing for making money quickly
There are specific requirements for monetising content on your YouTube channel. By associating your YouTube channel with affiliate marketing, you can make money faster. Since gadgets are pricey, affiliate marketing helps in garnering high commissions.
Conclusion
Now, you must be familiar with the ways to start your career as a YouTuber. So gear up and plan things well, and to begin with, start a technology channel on YouTube. Following these tips, as mentioned earlier, will lead to a successful outing as a YouTube technology channel creator!