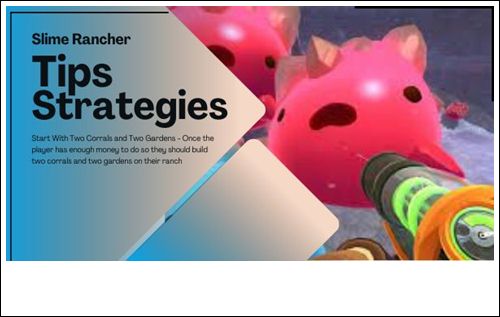 Slime Rancher Beginners Guide (Tips & Tricks)
This page is a compilation of tips and tricks for beginners that I would have known when I first began to play Slime Rancher. I've made every effort to present the suggestions and tricks listed on this page chronologically, from the beginning of the game until the conclusion. Still, the tips and tricks here can be helpful to you regardless of the level you're at.
Beginner Tips and Tricks
1. Make your normal slime Largos, and store (at the very least) fifteen in every Corral.
Largos create 1 per slime they're paired with. A Pink/Rock largo can produce one plot each when eaten with normal food and 2 plorts with their preferred food.
2. Feed slims their most loved food to double the Plorts
3. Once you have unlocked Slime Science, you can set up drones to automate tasks around the ranch.
4. To earn money, focus on growing your slimes at home. if you wish to move the story forward, you should focus on investigating
5. Only bother about your Range Exchange later in the game. Make sure you have an established farm and explore the planet.
6. In the initial part of the game, don't be concerned about playing with Henhens and Chicken Coops
7. Feeding Largo the Plort from a different slime can transform him into the Tarr Slime. The slime can be deadly for the rancher and cannot be raised for Plorts or to earn money in any way.
8. Try mixing meat-based slimes with slimes that consume vegetables and fruits. Since it's much simpler to produce fruits and vegetables using Gardens than to breed chickens, you'll usually come up with Largo mixtures that can help this goal.
9. Certain slimes come with mechanisms that can create problems when they're kept close to other slimes. Quantum Slimes, for instance, can almost always escape their cages if they're disturbed. Boom Slimes tend to blow their Plorts away from the Corrals sometimes, and Tangle Slimes will grab any food item or Plort within just a few feet of their cage. Not to mention, Dervish Slimes will throw Plorts or food within the vicinity with their tornadoes. They'll be more likely to do this when stressed (meaning they're not fed). Be aware when choosing which Largo combinations you keep in the same room as other slimes. You could get a complete Tarr outbreak in your home if you're not careful.
Read More : Path of Exile Eldritch Implicit Modifiers
10. You don't have to take a break in this game. Your character will never tire or be penalised for staying up all night and not sleeping.
11. Tarr Slimes are more likely to be released at night, as Phosphor Slimes appear all over the place during the night.
12. Create Drones immediately, as they will allow you to automatize all farm chores
13. Develop gadgets at the lab that unlock Treasure Cracker upgrades
14. Use the button on the Silo to switch the slot to store your items. Each side of the Silo can be used to store 3 different things!
Check The Settings
Slime Rancher has only a few settings, but they can boost the gameplay, particularly when you need to collect slimes rather than being a target for dangers. What you can do to change and what the results will be:
Instruction: When enabled, this will help you understand the fundamentals of exploration and managing your Jetvac and the ranch. If you've never played before, enabling it's beneficial without being overly intrusive is worthwhile. It helps you understand concepts like the plorts, tarts, and slime.
Tarrs slimes are whenever any slime consumes two plots with a different shape than it eats. The slimes of Tarr are aggressive and will eat slimes, food, and livestock, which are in their way. They may also become quite common if allowed, as many places contain more than three types of slime. It is only possible to eliminate slime by placing them in areas that are not allowed to be in or areas, soaking them in water, or letting them eat all the food they can see. They turn against each other and then explode.
Feral slimes include ones that haven't been fed in the last few days. Although they aren't as aggressive as tarts, they strike at the first sign of a predator and could cause damage to your health. Although you cannot lose your life, you could be taken back to the ranch and get your belongings wiped out, so there are consequences for being snatched by them.
Damage to the Player Player Damage: The game has zero fall-related damage. However, you may be able to take the brunt of feral slimes or tarts and dangers like fire. This modifier lets you adjust damage to 0.5x, 1.0x, 1.25x or 1.5x.
If you're playing for the first time, we recommend eliminating Tarrs and Feral slimes. Tarrs especially can cause you to lose your balance and cause you to be frustrated in the beginning. It's so simple to have several saved documents that learning the basics is worthwhile before introducing the additional dangers.