Can you transfer data to iPhone after setup?
When getting a new iPhone, the initial step entails its setup. Apple has conveniently provided users with a seamless data transfer process from their previous iPhone to the new one. When you enter the setup process, you have the option to restore data from an iCloud or iTunes backup. Alternatively, if both iPhones are running on iOS 12.4 or later, you can directly transfer data using the "Transfer from iPhone" feature.
Nevertheless, circumstances may have arisen where you did not transfer your old iPhone's data during the setup phase. Now that you have completed the iPhone setup, you realize the need for certain data stored on your previous device. Naturally, you might question whether it is possible to transfer data from one iPhone to another iPhone after the iPhone setup. Rest assured, the answer is a resounding YES! Allow me to guide you through the method of how to transfer data from iPhone to iPhone after setup.
Read More : tech write for us
Way 1. Get back to iPhone Setup to transfer Data to New iPhone
If it is ok to erase your iPhone data for you, there is a possibility to access the data transfer option by resetting your device and initiating the setup once again. Generally, you have the option to back up your iPhone using iCloud or iTunes, and subsequently restore it on the new iPhone.
To get back to setup process, follow these steps:
Erase your iPhone: Tap the "Settings" app on the new iPhone > choose "General" > "Reset"> "Erase All Content and Settings". This action will erase your device. After erasing, you can enter the setup process on the device.
Following the erasure, you will be greeted with the "Hello" message displayed in various languages on the targeted iPhone. Proceed by selecting your preferred language and then indicating your location.
Then you can utilize the Quick Start feature to transfer data. Just follow the screen to complete.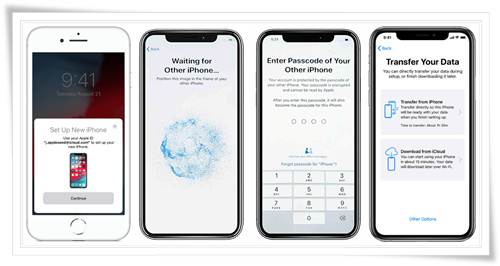 Way 2. Quick way to transfer data to new iPhone directly
If you don't want to erase your data, there is an alternative solution available through a third-party tool called FoneTool. It can help you to transfer data from iPhone to iPhone after setup.
FoneTool is a remarkable iPhone transfer software. With its exceptional speed, it allows you to transfer various types of data such as photos, videos, music, contacts, messages, and app data between iPhones. Furthermore, this tool provides the option to selectively migrate specific data, such as music, contacts, and messages, to another iPhone.
Notably, FoneTool supports all iPhone models, including the latest iPhone 14/13/12/11/iPhone SE 2022/2020, and is fully compatible with all iOS versions, including iOS 16/15/14. To benefit from its features, simply download the tool onto your PC and follow the instructions to learn how to transfer data from one iPhone to another, even if the devices have different Apple IDs.
Connect both your old iPhone and the new iPhone to the computer using appropriate USB cables.
Step 1. Launch FoneTool and click on the "Phone Transfer" option. From the available options, select "iPhone to iPhone" to initiate the transfer process.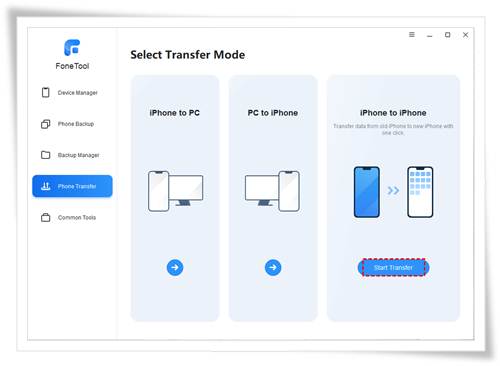 Step 2. Confirm the source and target devices. Then click "Start Transfer" button.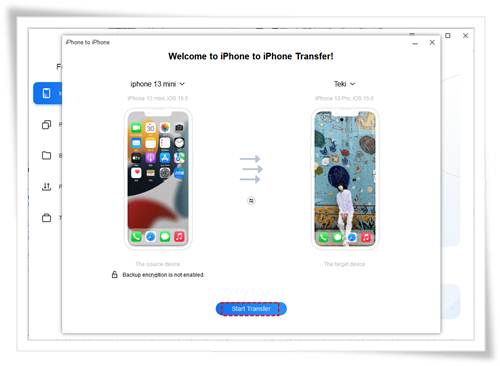 Note:
1.If you have only one USB data cable available, you can employ the "Full Backup" function within FoneTool to backup iPhone on Windows. Later, you can restore this backup to your new iPhone to complete the data transfer process.
2. FoneTool helps you selectively transfer data from iPhone to iPhone after setup. You can turn to "Phone Backup" on the left pane, and choose "Selective Backup" to save Photos, videos, contacts, messages on your computer. Then you can restore the backup to the targeted iPhone.
Conclusion
This comprehensive guide provides solutions for transferring data from one iPhone to another after the initial setup. If you are willing to erase data, you can reset your iPhone to enter setup process.
However, if you prefer to transfer data without erasing, FoneTool is an excellent option. This tool allows you to transfer all or selected data between iPhones after setup easily.