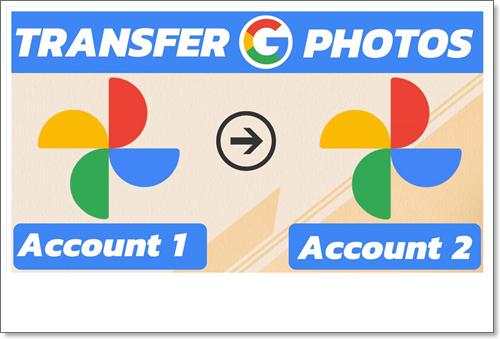 Looking at photos can help us recall the beautiful good old days, so they often play an important role in our daily life. In the ever-evolving digital landscape, more and more people like to save their photos online and cloud drives may be a good online storage place. Google Drive, as one of the most famous clouds, gains a lot of users and you may be one of them. If you have 2 Google Photos accounts, you may also have the same question as the title said. So, this post comes to help you solve this problem in the best way.
What is Google Photos?
Google Photos is a cloud-based storage service provided by Google. You can save your photos and videos on it and manage them with various features. It can automatically sync and backup photos from your devices to your clouds which helps you access your photos anywhere. Also, Google Photos makes sharing easier. You can create a shared album on it and let your friends, family members, or team members upload photos into it.
Why Transfer Google Photos to Another Account?
Different users have various reasons to transfer Google Photos to another account. This section will list some common reasons.
To centralize the photos on just one Google Photos account.
Before passing the ownership of this Google Photos account to others.
To backup photos to another account.
To separate personal and work Google Photos accounts.
To migrate the old account to a new account.
MultCloud – Best Free Cloud Management Service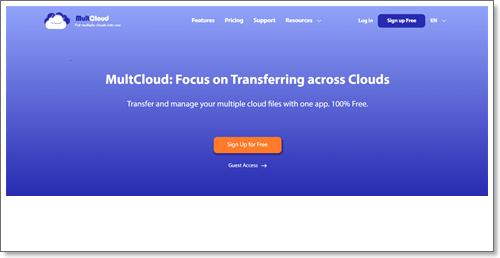 Of course, you can download photos from a Google Photos account and upload these photos to another one to transfer Google Photos between clouds. But doing that is time-consuming and it may cause computer glitches. Therefore, this section will recommend you a streamlined service to do that and it is MultCloud.
MultCloud is used to manage multiple cloud drives and you can find more than 30+ clouds on it. MultCloud can help you transfer, sync, and backup your files from one cloud to another cloud with specially designed functions. Also, it can be used to directly upload files to a cloud with a link and keep the trail in the "Remote Upload" interface. Besides, it is equipped with a feature that allows others to upload files to your account without logging in. So, it is really helpful as long as you master the usage.
Transferring Google Photos to another account can be realized by Cloud Transfer. As its name shows, it is used to transfer files between clouds. By Cloud Transfer, you can move multiple files at the same time which saves much more time than transferring files one by one. Besides, you don't need to stare at the MultCloud website during transfer since it will still run even if you shut your computer down.
To be more customizable, MultCloud offers multiple options. For example, if you want to delete the files that were transferred to another account in the source account, you can tick the corresponding order in Options.
How to Transfer Google Photos to Another Account by Cloud Transfer
Here we come to the steps part. In this section, the steps for transferring Google Photos through MultCloud are listed below.
Step 1: Sign up for a MultCloud account to continue the remaining steps.
Step 2: Add Google Photos to MultCloud by tapping "Add Cloud" in the left bar and its icon in the right part. To navigate your Google Photos account to MultCloud, you will log in to your Google Photos account in the pop-up window.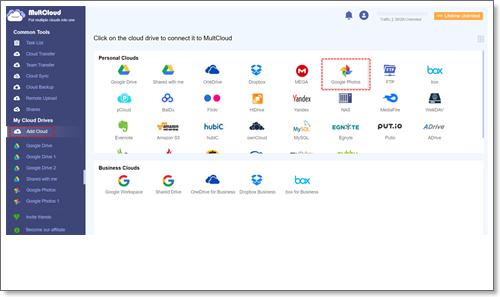 Step 3: Repeat the same steps for adding another Google Photos account to MultCloud.
Step 4: Select "Cloud Transfer" in the left bar and put the 2 accounts in the different boxes. Then click "Transfer Now" and you finish all the operations to transfer Google Photos between your 2 accounts.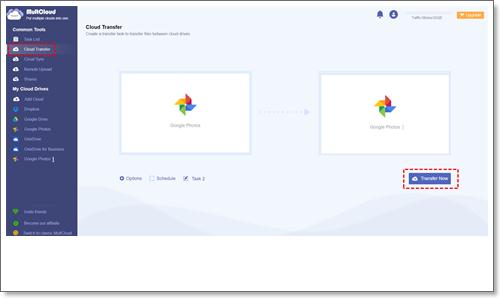 Conclusion
Except for Cloud Transfer, other functions on MultCloud are worth trying, too. For example, when you meet a problem that needs you to backup Dropbox to Amazon S3, you can use MultCloud Cloud Backup to achieve it with simple steps and fast speed for free.