Virtualization has revolutionized the IT landscape, and Hyper-V is a popular choice for enterprise virtualization. Hyper-V backup involves creating copies of virtual machines, including their configurations, applications, and data.
This article will explore the significance of Hyper-V backup for enterprise data and provide insights on selecting the right backup solution.
Why You Need Hyper-V Backup for Virtualized Environment
The importance of Hyper-V backup for enterprise virtual machines cannot be overstated. Virtual machine backups make it possible to streamline tasks and increase efficiency while reducing costs associated with hardware maintenance and upgrades. A single instance of data loss or corruption can have a significant impact on business operations, leading to financial losses, customer dissatisfaction, and damage to the company's reputation. Therefore, it is critical to have a robust Hyper-V backup strategy in place to ensure the safety and continuity of business operations.
Read More : write for us technology free
The Built-In Hyper-V Backup Methods and How to Choose
Microsoft Hyper-V provides two built-in backup methods: Windows Server Backup (WSB) and the Hyper-V Volume Shadow Copy Service (VSS) Writer.
Windows Server Backup (WSB) is a free backup tool that comes with Windows Server. It allows you to backup individual virtual machines or the entire Hyper-V host. WSB supports full server backups, incremental backups, and bare-metal restores. However, it lacks some advanced features such as backup encryption, centralized management, and granular recovery options.
Hyper-V VSS Writer enables backup applications to create application-consistent backups of Hyper-V virtual machines. It ensures that all data is flushed from memory to disk and that there are no pending input/output (I/O) operations before the backup takes place. The advantage of using VSS Writer is that it provides consistency and integrity in backing up virtual machines. However, it requires third-party backup software to be used.
When selecting a Hyper V backup software to protect your virtual machines, consider the following factors:
✦ Comprehensive Backup Features: offer full VM backup and recovery, incremental backups.
✦ Scalability and Performance: handle the scale of your virtual environment, perform backups efficiently, and minimize impact on VM performance.
✦ Centralized Management and Monitoring: simplify backup administration, allow monitoring of backup jobs, and provides proactive alerts from a central console.
✦ Ease of Use: offer user-friendly interfaces to backup and restore Hyper-V virtual machines.
Schedule Hyper-V Backups from a Centralized Console
Based on the above criteria, AOMEI Cyber Backup is worth a try for enterprise data protection. AOMEI Cyber Backup offers comprehensive backup features and provides flexibility and compatibility with different Hyper-V environments.
AOMEI Cyber Backup is scalable and can handle multiple virtual machines across different hosts. It is easy to use and comes with an intuitive interface that makes backup and recovery operations simple and straightforward. Moreover, it is cost-effective, offering flexible pricing plans that suit different business needs and budgets.
Besides Hyper-V backup, it also supports VMware backup and SQL database backup.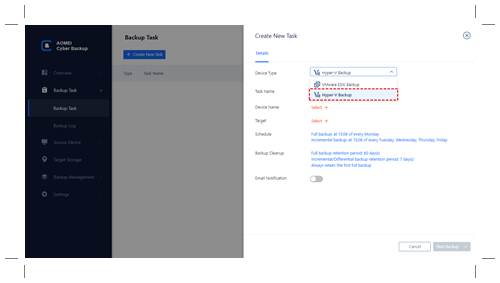 Hyper-V backup is a critical component of data protection and disaster recovery strategies for enterprise virtual machines. Choosing the right backup solution is essential to ensure seamless operations, data integrity, and quick recovery in case of emergencies. AOMEI Cyber Backup caters to the specific needs of enterprise environments. By selecting a reliable and feature-rich Hyper-V backup solution, enterprises can safeguard their valuable virtual machine data and ensure business continuity with ease.
Conclusion
Hyper-V backup is a key aspect of data protection in enterprise virtual machine environments. By understanding the importance of Hyper-V backup and evaluating the available options, enterprises can make informed decisions and select a suitable solution. AOMEI Cyber Backup emerges as a comprehensive and reliable choice, offering the necessary features and functionalities to ensure efficient backup and recovery processes. Prioritize the security and integrity of your virtual machine data by implementing a robust Hyper-V backup solution like AOMEI Cyber Backup.